Luxembourg is a small country in western Europe, bordered by Belgium, France and Germany, it has no coast. The three rivers: the Moselle, the Sauer and Our forms the border between Luxembourg and Germany Luxembourg is only 1000 square miles wide. The country is divided into three districts, the districts are split into 12 cantons, which in turn are divided into municipalities.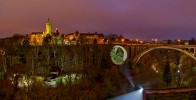 Luxembourg, the "Gibraltar of the North," is the capital of Luxembourg, a more
The capital and largest city, is also called Luxembourg and is the seat of several institutions and agencies of the European Union. Luxembourg is ruled by a Grand Duke, is a representative parliamentary democracy. It is the only remaining sovereign Grand Duchy in the world.
The 'Oesling' is part of the Ardennes, this is the northernmost part of the country. It is dominated by hills and low mountains It is a wooded country of great scenic beauty. Highest point: 1823 feet. The remaining territory, in the centre and the south, known as the 'Good country', is mainly rolling farmland and woods. In the east it borders the wine-producing valley of the Moselle and a narrow strip of red earth, which the Luxembourg iron ore basin is located in the far southwest.
Luxembourg has a number of folk traditions. Especially in the capital are a number of interesting museums, including the National Museum of History and Art, the Museum of the City of Luxembourg, and the new Grand Duke Jean Museum of Modern Art. The representation of the Battle of the Bulge on display at the National Museum of Military History in Diekirch, are well known. By the historical importance of the fortifications of Luxembourg City itself, is included on UNESCO's World Heritage List.
Most Luxembourg attaches great importance to quality, they love the good life. For his family and himself he seeks high quality of life, he is proud of the high quality of everything he does. They protect their individuality and were over the years been proud people. We want to remain what we are is the motto of the nation, in their own language "Mir welle bleiwe, What mir sin"
Luxembourg City has a variety of original events from June to September, such as concerts, street theater, ballet, outdoor projections, sculpture exhibitions in public places, festivals, markets, sports and folkloric shows under the name "Summer in the City". The majority of attractions at the summer festival will take place in the open air. The program features several cultural "highlights" .
Many countries in Europe have no visa requirement for visiting Luxembourg, for a stay less than 3 months. Visitors from other countries can request a visa at the Luxembourg Embassy or Consulate.
---
Leave a Reply